Recipe for Forgetting
On Monday my students are going to ask me if they can bring a sheet of notes into the final. I'm reluctanct, since there are very, very, very few formulas in the class. And the definitions they need to know are things like "prime number." Current plan is to "sell" them the chance to bring a 3-by-5 card of notes for a half-letter-grade point penalty.
I'm reminded of my reasons every time I make spiced couscous with raisins and pine nuts, as the bookmark in the cookbook is a folded sheet of 8.5 by 11 paper filled (both sides) with mysterious glyphs in my handwriting.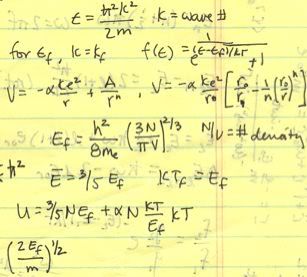 With the exception of one equation, I have not a clue what any of them mean.
Spiced Couscous with Raisins and Pine Nuts
2 Tbs olive oil
2 Tbs pine nuts
1/2 cup raisins
1 garlic clove, minced
1/2 tsp ground cinnamon
1/4 tsp ground allspice
1/8 tsp cayenne
1 1/2 cups couscous
2 cups boiling water
3/4 tsp salt
In a medium saucepan, heat the oil. Add the pine nuts and cook over low heat, stirring, until the nuts are golden brown, about 2 minutes. Add the raisins, garlic, cinnamon, allspice, and cayenne. Cook, stirring, for 1 minute.
Add the couscous to the saucepan, along with the 2 cups of boiling water and the salt. Stir once with a fork, cover tightly, and remove from the heat. Let stand, covered, for 5 minutes.