Notions = Hardware for Girls
Someone was very clever when they named "notions." I am imagining a nineteenth century young lady talking to her father, "Daddy, can I have some pin money to buy notions?" The father obliges, and she goes and buys some really cool stuff that she otherwise would not be allowed to have.
The notions department of the fabric store is where they sell sewing machine oil, the tool for evenly spacing buttonholes, special rulers of all shapes and sizes, drafting and tracing tools, grommets, blade-sharpeners, velcro, and all that. It's all very nifty.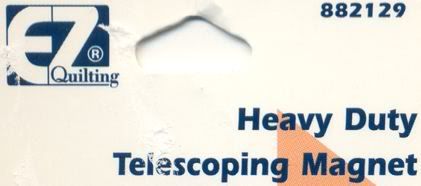 Today I bought an "EZ Quilting Heavy Duty Telescoping Magnet." What does a heavy duty telescoping magnet have to do with quilting? Not a clue. But I was able to rescue the knife that fell behind a kitchen cabinet this summer.