Project Roundup
Or, what I've been doing when I haven't been educating the future.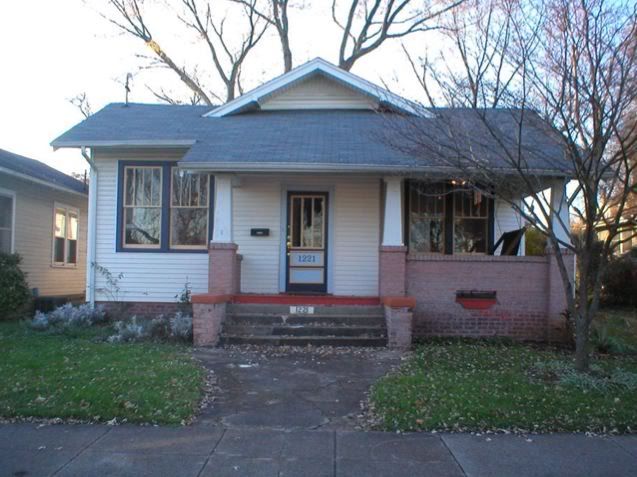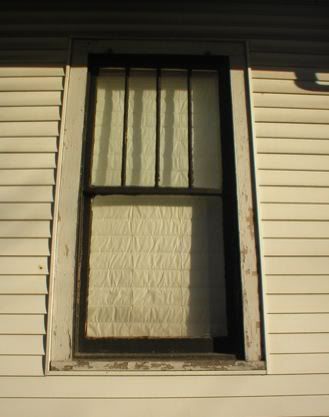 Projects around the house have been proceeding, but slowly. And the outdoor work has mostly stopped. Things look pretty good in the front and mostly on the sides, but towards the back of the house, the windows are still in fairly sorry shape. I've taken the aluminum siding off most of them (water was getting trapped behind it!).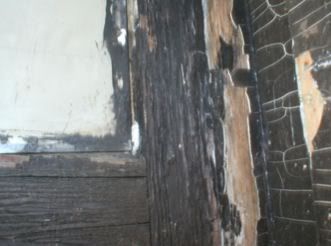 You can see on this back window that the alligatored paint is chipping off, that the sash is cracking, and that almost all the glazing is gone. Since May eleven such windows have been rehabbed. Five remain for next year (only two of which are as bad as this one). The windows each measure 34" by 68" (approx), letting lots of light in (and lots of heat out of) the house.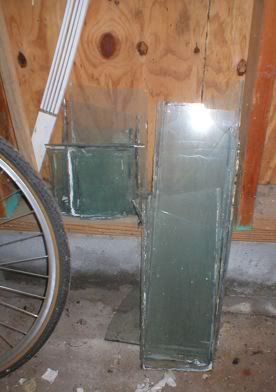 No progress has been made on my ambitious project to buy stained glass supplies and to make candle-holders out of these broken panes of glass. The house has that wavy, antique glass, so I've saved the broken panes. Some of these panes were broken when I started on the project. Many others ended up broken while I worked on it. Chipping out old glazing is a delicate art -- especially when one of the previous owners decided to use nails instead of glazing points!
Finally the trim is starting to be painted. This is because I am not doing it myself! I haven't done any painting since I did the hall trim back in August. One added bonus of the trim being painted is that this has forced the furniture to be moved from the spots where the movers put it down, and I've realized that some of the things would be much better in different places.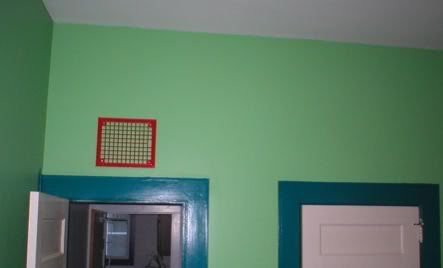 The non-functionality of the den furniture (and its arrangement) became entirely clear and a wonderful solutions presented itself during some impulse antique shopping yesterday. After checking the measurements, it looks like it will fit, and if it's still there on Monday, a very, very, very large desk will be moving into my den (displacing a crappy computer desk from Target and a 1950's era desk inheirited from my mom's aunt). New-old desk is made of oak and has a work surface that is 4 feet by 5 feet! Can you imagine the projects that can be spread across that! (Can you imagine the clutter that will accumulate!)
Aside from tying off the loose ends, I've finished the
washcloth I made during the department meeting
and the mittens for Marlene (my favorite
office manager
).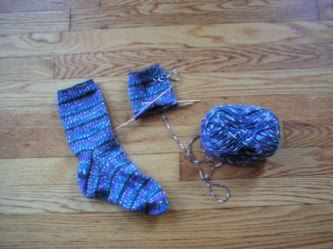 I'm making reasonable progress on the socks. Over Thanksgiving I dyed some wool with koolaid. I wasn't sure what to make out of it because I was afraid that I was going to run out of yarn (which is a major problem if you've dyed it yourself with kool-aid).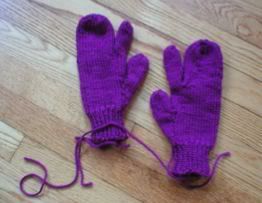 So I decided to make small things -- children's hat + mittens. They're very cute. As I don't personally know any children, I gave them away.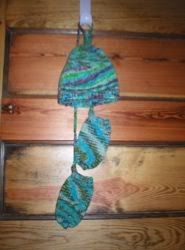 This is a bit of a family tradition, as my mom is knitting mittens from my grandmother's yarn stash (Grandma Hirta died about 9 years ago, and there is still a lot of yarn left!) and giving them away.
I'm thinking that a sewing project is up next.