Redocorating With Old Stuff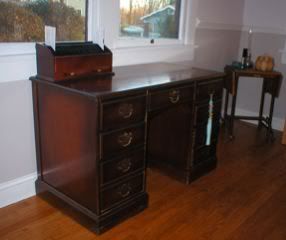 I've moved my old desk into the dining room. It's now bill-paying central, home to the bill-sorter, stamps, check book, all that. Of course most of my regular desk-stuff is still in the drawers. This placement of the old desk not designed to be the catch-all surface for all the junk that ends up on the diningroom table, but you can probably guess what will happen. Mom is pleased that I didn't sell it, as it belonged to her great aunt.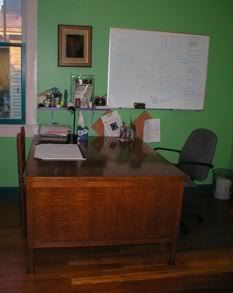 The new desk has been set up in the den. The neatness is deceptive, as I've barely started moving into the desk. With a 20 square foot surface, I can plan ambitious projects or else accumulate still more clutter. The drawer fronts and the legs are solid oak. The top is a veneer, but it's a
nice
veneer.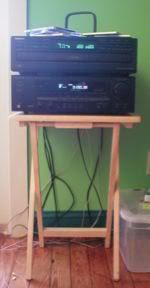 Making room for the new desk meant that the small entertainment center (from Ikea) had to be banished to the basement to wait for this spring's yard sale. So I bought for my geriatric stereo the cheapest table that money can buy ($7 at Bed, Bath, and Beyond) so that she no longer has to sit on the floor. Once my neighbors have left for work, I'll put on some music and work on moving into the desk and putting the books back on the bookcase. My stereo might be old (she'll be 14 this spring), but she's loud.