Good News, Bad News II
Thanks to all the well-wishes hoping for a speedy recovery. I'm guardedly optimistic that I will be well enough to teach on Monday.
I went outside to pet my neighbor's cat: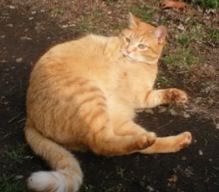 Unfortunately, I wasn't thinking, and when I shut the french doors behind me, I locked the spring lock. All the keys and my phone trapped inside the house! The only other person with a key gone for the day! However, previous owners were less remodelers and more "remuddlers," and there is a gap between the door and the face plate for the lock. I was able to do the "credit card trick" with improvised tools.
Note to self: When you want the door to stay locked, use the deadbolt.